Experience in computers and software, along with a background in Information Technology, created a HUGE desire to dive onto the Internet in 1996.  I had a great job in Corporate America working in Procurement and Information Technology.
The Day IT Happened!
My Manager at the time, walked into my office and said, "Do you know how to create websites?"  My answer was just like this: "No, but I will know very shortly!"  I then jumped online and went to the infamous "YAHOO!" search engine and began my research.  I created the first website for the Procurement Department and the rest, as they say, is "history!"
Approximately a year later, the company merged and layoffs began.  Fortunate for me, I was chosen for the layoff.  I say fortunately only because my dream of becoming an entrepreneur became a reality!
Fast forward to today, I now help entrepreneurs with consultations and creating systems and processes for professional speakers and authors.
My research and application have allowed me the opportunities to launch my own radio talk show, Partner at a Content Marketing website, hold a position as the former Radio Program Director, Co-Host & Consultant on CNN and CBS Radio.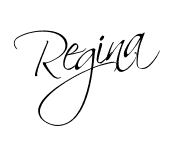 John Register, Paralympic Silver Medalist, 2 x TEDx Speaker, Inspirational Keynote Speaker, JohnRegister.com
---
10 Honest Traits About Me…
I LOVE meeting people!  I've discovered that when meeting new people you never know what you'll learn in the process.
I'm not a computer programmer but I'm definitely a computer geek!
I use to be shy, boxed in and dreaded stepping out of my comfort zone.
I was featured in the New York Times in 1998 as a Direct Sales Renegade LOL!
I was the first Black female IBO to achieve a Top 25 Income Earning Position in a Network Marketing Company
I despise seafood and I overuse exclamation points!
I have a passion for the elderly and would like to one day spend a lot of money spoiling them.
I love teaching (newbies) wanna-be internet marketers how to steer away from 'cliques' (i.e., scratch my back, I'll scratch yours if you do what I say groups) and to establish themselves as experts instead.
I'm a very spiritual and grounded Woman (per my Mom :))
Last but surely not least, I'm a 'God Chaser' cause I love Jesus with every fiber of my being.
I've also achieved an Amazon Best Selling Author rating of, "How To Let Go and Let God" — From Worldly Pain to Spiritual Power. Available on Amazon.com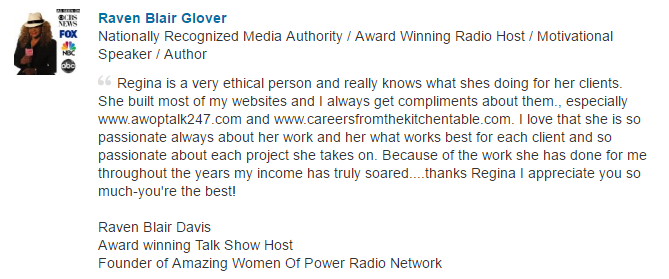 Keep It Real
I'm no guru!  I don't do magic tricks, and there are no overnight successes.  I love helping Entrepreneurs.  I'm results driven with a sincere passion for getting the job done the right way!
If you're looking for more than a traditional business consultant and/or executive virtual assistant, you've come to the right place.  We'll make it happen!  Schedule your FREE 15-minute discovery session here.
Kudos
Honored to the bone to be featured in the New York Times in 1998 as a Direct Sales Renegade as well as receive the following awards…
WE Magazine Class of 2014 Who's Who Among Women in Ecommerce
one of the 25 Outstanding Women Who Inspire 2014 by Hope For Women Magazine
named the Leading Business Woman of the Year by The Women Business Owners Organization
one of the Top 50 Fabulous Women Entrepreneurs (two years in a row) by Black Business Women Online
50 and Fabulous Top Bloggers Named by Boomer Diva Nation
one of the 2011 Social Media Superstars – Blacks in Technology
---
Here's what just a few of my clients had to say…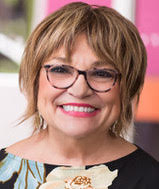 During my speaking career (18 years) I have worked with several Virtual Assistants and for whatever reasons, things fell through the cracks. A good friend, Crystal Washington, CSP suggested that I give her assistant, Regina, a call and see if she could fit me into her schedule. I called and the rest is history.
Regina knows speakers and she knows all the backend work it takes to get a speaker out the door, on the stage, back home, and then completing all the after-speaking items like testimonials, expenses, and follow-up calls. She has been an answer to my prayers. Regina not only has a system in place, but she also has all of the forms required for speakers like a letter of agreement, deposits, bios, intros, expenses, etc.,  and she is a master at espeakers.
My clients adore Regina! She is on IT – and she has helped me develop and perfect my systems and processes. We follow the process – and if I mess up (and I do) she gently gets me back on track. Regina is the bomb! Now that she has me trained, we are moving onto other projects. Truth be told, I can't imagine a day without Regina. ~ Karen McCullough, CSP at KarenMcCullough.com
---

Crystal Washington, Technology Strategist & Futurist
CrystalWashington.com
---
Rock star! Super. You move mountains! You are diligent! Here's how I describe working with her:

game changer
valued resource
insightful
Kate Rieger, Second Opinion Solutions Group, LLC
---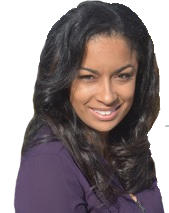 Phenomenal woman! These are the words that come to mind when I think of Regina Baker. She is an amazing woman that cares deeply about her clients. She gives more of herself than one may expect. She is professional, knows what she is talking about and delivers great results in an unexpected timeframe. Regina knows the business she is in and it is easy to see why both she and her service are award winning.
Regina also truly cares deeply about the well-being of her clients and is there to lend a shoulder and a piece of her heart. She is committed to making sure the job gets done but not at the expense of one's well being. I have never worked with someone so compassionate and focused at the same time. She knows how to take you through the process of what is coming and expected from both you as the client and herself. She gets it done but does it with a sprinkle of love and that makes all the difference. I am ever so grateful to have this woman in my life and on my team.
Should the opportunity presents itself and you are in need of a "Regina Baker", connect with the original Regina Baker. There is none like her and you will not be disappointed. — Efia at EfiaLeatham.com
---
Need more references? Click here.